Tag Archives:
we are the world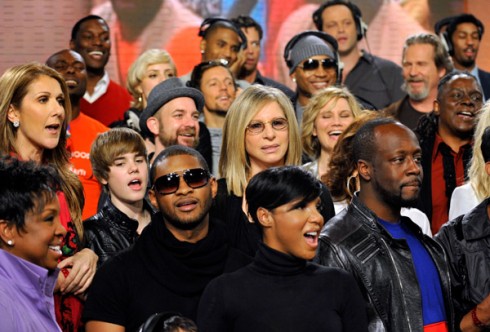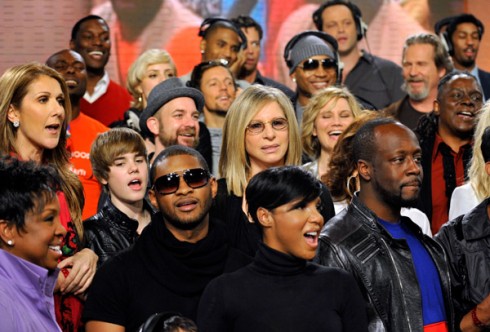 Wow, just when we thought the remake of REM's "Everybody Hurts" was huge this comes along.
The new recording features production by popular producers RedOne and Will.i.am. Some of the artists in the 100-member choir assembled by Quincy Jones are Pink, Lil Wayne, Eminem, AR Rahman, Kanye West, Jonas Brothers, LL Cool J, Robin Thicke, Celine Dion, Akon, Rob Thomas, Wyclef Jean, Jeff Bridges, Vince Vaughn, Barbra Streisand, Jordin Sparks, Good Charlotte's Madden brothers, Tony Bennett, Josh Groban, Snoop Dogg, Steve Saville, Jennifer Hudson, Britney Spears, Keri Hilson, Jamie Foxx, Tyrese, Katharine McPhee, Sean Garrett, Will.i.am, Brandy, Carlos Santana, Melanie Fiona, Enrique Iglesias, Toni Braxton, Cameron Bell, Jason Mraz, Miley Cyrus, Busta Rhymes, Nicole Scherzinger, Justin Bieber, Nicole Richie, Jay-Z, Usher, Julianne Hough, Raphael Saadiq, Zac Brown, India.Arie, Janet Jackson, Beyonce, Randy Jackson, Musiq Soulchild, Heart's Ann and Nancy Wilson, Fonzworth Bentley, Kid Cudi, Iyaz, Bizzy Bone, Nipsey Hussle, the Beach Boys' Brian Wilson and Al Jardine, Trey Songz, Taylor Swift, Selena Gomez, Mya, Carrie Underwood and Gladys Knight. Other artists will be confirmed in an official press release.
It has also just been confirmed that Janet Jackson will be recording her brother Michael's lines from the song. Oscar-winning filmmaker Paul Haggis directed the music video of the session.
The song will premiere Friday, February 12, during the opening ceremony of the 2010 Winter Olympics. Click below for a video of the event.